Offering a wide assortment of Hardness Testing Machines, Material Testing Machines, Universal Testing Machines, Dynamic Balancing Machines at competitive market prices..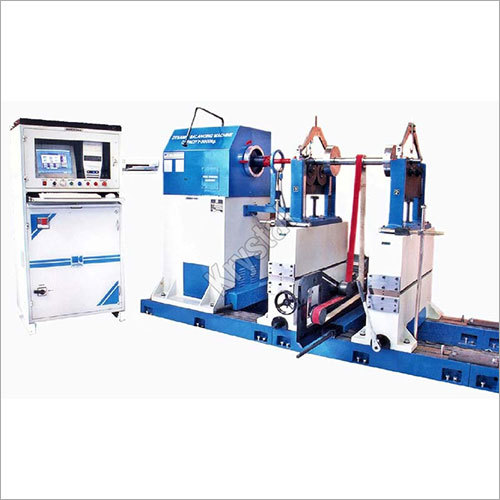 Trade Information
1 Unit Per Week

1 Week

As per Requirement

All India
Product Description
We are a prominent Manufacturer, Exporter and Supplier of extensively acknowledged
Horizontal Balancing Machine.
This is accessible at pocket friendly prices in variegated provided sizes, specifications, and packaging options.
It is hugely appreciated for its Indigenous Design, No coupling adapters, Remarkable components, and Minimum setting time.
As an outcome, this is widely demanded by the users.
Apart from this, information related to the offered Horizontal Axis Balancing Machine are provided below:
Construction:
Each model of this type our KHS Series Horizontal Axis Balancing Machine is of rigid and durable construction reflecting the highest quality of workmanship. Electrical controls and measuring system are separately housed in aesthetically designed cubicle. All operating controls are ergonomically arranged for the safety and ease of operation.
Electronic measuring systems- the electronic circuitry used is built in with Plug in type cards. All components used are of industry standards.
Variety Of Options For Measuring Systems Are Available To Suit Variety Of Rotors, For Example:
Direct indication of amount on digital meter and angle with bright strobe light.
Direct indication of unbalance and angle on digital meters.
Imbalance resolved into 120". 90o, 60o etc.(Opti0nai)
PC based measuring system
Any Special requirement to suit the component
Optional Mechanical Attachments:
Vertical and / or Horizontal drilling attachment
Milling attachment
Riveting
Under belt drive
Tangential belt drive
Any other tooling system as per special requirement
Specifications:
Parameter

Unit

Model



















KHS-10
KHP-10

KHS-30
KHP-30

KHS-50
KHP-50

KHS-100
KHP-100

KHS-300
KHP-300

KHS-650
KHP-650

KHS-IT
KHP-IT







Weight of job

kg

0.2 - 10

0.3 - 30

0.5 - 50

1"100

3"300

6.5"650

10"1000

Max. diameter of job

mm.

250

500

500

800

800

1000

1200

Max. Distance between bearings.

mm.

500

1000

1500

2000

2000

2000

2400

Shaft diameter

mm.

05/01/50

05/01/50

05/01/50

15-80

20-120

20-120

25-140

Balancing speed range(n)

RPM.

600-3000

500-2000

500-2000

400-1600

400-1200

300-1200

300-1200

Power of drive motor

HP.

0.33

0.5

0.75

1.5

3

5

7.5

Acceleration capacity (GD²n²)

kgm²n²

0.40x106

0.48x106

0.72x106

1.98x106

10.8x106

11.65x106

14.12x106

minimum unbalance mas read

gm

0.02

0.04

0.06

0.1

0.2

0.4

0.5

maximum unbalance measured

gm.mm.

104

3 x104

5x104

10 x105

3 x105

6.5 x105

106

Minimum unbalance measured

gm.mm.

0.25

0.5

0.75

2.5

5

10

15

Minimum achievable residual unbalance (for max. Wt. of job)

microns or gm.mm. / kg

0.2

0.2

0.2

0.2

0.2

0.3

0.3
Other Products in 'Dynamic Balancing Machines' category